SCIENTIFIC ACTIVITY
39 peer-reviewed articles on ISI journals, 1 book chapter.
21 oral communications and 32 poster contributions to national and international conferences.
Guest Editor for the special issue in Eur. J. Inorg. Chem. titled "Advances in Phosphorus Chemistry" (March 2014) and co-Guest Editor for the special issue in Inorg. Chim. Acta titled "Advances in Transition Metals Catalysis" (May 2015).
Visiting Scientist: University of Gdansk (Poland), University of Regensburg (Germany), Russian Academy of Sciences (Kazan), Universitat Rovira I Virgili, (Tarragona, Spain), E.P.F.L (Lausanne, Switzerland).
Co-organiser: First International Conference on Phosphorus Chemistry, Florence, 4-5 December 2014; EWPC-6, VI European Workshop on Phosphorus Chemistry, 26-27 March 2009, Florence (Italy), Symposium "Materiali Ceramici tra Tradizione ed Innovazione" Florence, April 3, 2008.
Tutor of master students, PhD students and Post-doctoral fellows.
Teaching at the University of Florence a course for PhD students "Homogeneous Catalysis: from bulk to fine chemicals and energy solutions".
Member of the Italian Chemical Society (SCI) since 2009.
CONTRIBUTION TO OUR SCHOOL
Phosphorene: a new member of 2D family with multifaceted applications in material science
LAST 5 RELEVANT PUBLICATIONS
Dephasing in strongly anisotropic black phosphorus
N. Hermsworth, V. Tayari, F. Telesio, S. Xiang, S. Roddaro, M. Caporali, A. Ienco, M. Serrano-Ruiz, M. Peruzzini, G. Gervais, T. Szkopek, S. Heun
Phys.Rev B 2016, 94, 245404
Novel polystyrene-based nanocomposites by phosphorene dispersion
E. Passaglia, F. Cicogna, G. Lorenzetti, S. Legnaioli, M. Caporali, M. Serrano-Ruiz, A. Ienco, M. Peruzzini
RSC Adv., 2016, 6, 53777-53783
Reactions of the Lithiated Diphosphines tBu2P-P(SiMe3)Li with [(η6-C6H6)RuCl2]2 in the Presence of Tertiary Phosphines
Ł. Ponikiewski, T. Kruczyński, M. Caporali, M. Peruzzini, D. Gudat, M. Walaszkowska, J. Pikies
Eur. J. Inorg. Chem. 2016, 4241-4249
A straightforward access to ruthenium-coordinated fluorophosphines from phosphorous oxyacids
F. Delgado Calvo, V. Mirabello, M. Caporali, W. Oberhauser, K. Raltchev, K. Karaghiosoff, M. Peruzzini
Dalton Trans. 2016, 45, 2284-2293
The role of water in the preparation and stabilization of high quality phosphorene flakes
M. Serrano-Ruiz, M. Caporali, A. Ienco, V. Piazza, S. Heun, M. Peruzzini
Adv. Mater. Interfaces, 2016, 3, 1500441.
INFO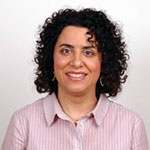 Researcher
CNR-ICCOM