The 13th edition of the International School on Hybrid and Organic Photovoltaics (ISOPHOS®) will be held from the 2nd till 6th of September 2019 in the wonderful atmosphere of Castiglione della Pescaia (Tuscany - Italy), an ancient seaside town grew around a medieval fortress and a large fishery, from which it got its designation.
ISOPHOS is organized by the Center for Hybrid and Organic Solar Energy (CHOSE) of the Lazio Region - University of Rome Tor Vergata and the Startup Cicci Research.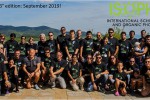 The school focuses on recent advances in science and technology of organic and hybrid photovoltaic devices, including polymers, perovskites, dye solar cells and the use of Graphene and other 2D materials for energy applications. Both experimental and theory/simulation descriptions of the organic and hybrid PV will be presented.
Introductory and advanced lectures, held by world-recognized experts, will lead the attendee to this fascinating world. This is a unique opportunity to allow people from the different areas of research (chemistry, physics and engineering) to meet together and discuss about the subject.
Moreover, representative of several EU projects will be present at the school to allow and easy interaction between different research activities.
The school is dedicated to PhDs, Post Docs and Researchers who are interested to acquire an updated knowledge in these fields. A special session will give to students the opportunity to present their own work to share ideas and solutions.
Castiglione della Pescaia is located in the South-Western portion of Tuscany, with a gorgeous view of the islands of Elba and Giglio, and of the promontory of Argentario. The exclusive resort "Roccamare" is dominated by the splendid Aragonese castle, with its renowned beaches, holm-oak and oak forests, which are ideal for walks, mountain bike rides or excursions on horseback.