ACCOMODATION
The registration fee includes accommodation in sharing (2,3, or 4 persons) apartments around the island. The supply of towels and bed linen is included. A cleaning service of the apartment is planned for mid-week.
Please contact us as soon as possible for specific questions and requests or special need (as vegetarian, allergies, etc.).
We recommend to bring your swimsuit.
We suggest to plan your arrival/departure in Rome or Naples the day before/next the beginning/end of the school  (due to ferryboat timetable flexibility)
End of the school -
Estimated time of

arrival

at

Formia

harbour:
ISOPHOS:

June 6,

2014:  6pm (to be confirmed)
POCAONTAS:
June 8,
2014:  6pm (to be confirmed)
For train information (from Rome and Naples to Formia)
visit http://www.trenitalia.com
Ferries from and to Ventotene
Here you can find information about the LAZIOMAR ferries from and to Ventotene Island
Ferry - it takes 2 hours Fast Ferry: it takes 1 hour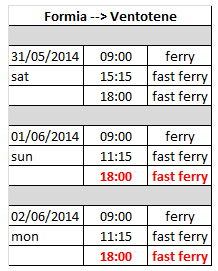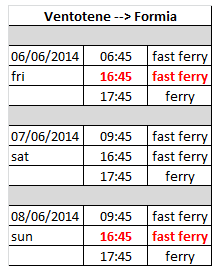 NOTE:
The group round-trip ticket is the red-one and it is included in the registration fee
If not yet comunicated, any different tickets have to be bought by participants
Please
, consider that
the fast-ferry
may not start
in
case of bad weather